Nickelodeon's hit interactive preschool series Blue's Clues & You! will skidoo onto DVD for the first time on June 2, 2020 featuring four exciting episodes from the show's debut season. The series follows beloved puppy Blue and live-action host Josh (Josh Dela Cruz) as they invite a new generation of preschoolers on clue-led adventures and solve a puzzle in each episode.
As a first-generation Filipino American, I am super excited to see another fellow Filipino American staring in one of my childhood favorites. I know I'm giving away my age when I say I remember watching Blue Clues when Steve was still following Blue's Clues to solve her fun puzzles. I love seeing us represented in a timeless classic that really helps engage our little ones' minds and helps us think outside of the box.
Blue is back with her good friend Josh in a refreshed version of Blue's Clues. Grab your handy dandy notebooks and sit back in your thinking chair because it's time to follow Blue's Clues and find out what she's trying to share with us!
In the Blue's Clues & You! DVD collection, fans can help Josh solve games of Blue's Clues as he tries to figure out what Blue wants for a snack, what present she wants for her birthday, what she would like to do on her playdate, and more. The DVD will also include special episodes from Josh & Blue's VLOG and eight bonus American Sign Language flashcards. Blue's Clues & You! will be available from Nickelodeon and Paramount Home Entertainment exclusively at Walmart on June 2, 2020.
Blue's Clues & You! Episodes:
Meet Josh!
Happy Birthday, Blue!
Playdate with Magenta
Big News with Blue
Special Features:
How to Play Blue's Clues Song
Josh & Blue's VLOG!
ABC Song, Hide & Seek + Dancing!
Holiday Shopping, Mailtime, Nursery Rhymes & More!
Garden Sing-Along, Touring School & Mailtime with Blue's Clues!
Soccer Tricks, Gopher Game & Color Song!
American Sign Language Lesson, Nursery Rhymes & Mailtime!
Planets Song, Find The Snail Game & Mailtime!
American Sign Language Word of the Week

Blue's Clues
Thankful
Music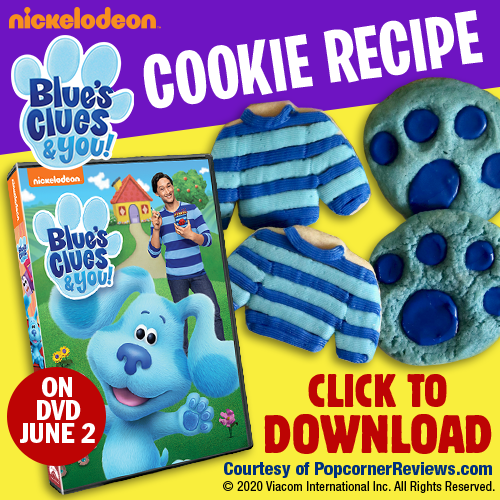 Blue's Clues & You! DVD Giveaway