The Bubble Guppies are swimming back onto DVD for a fin-tastic collection in Bubble Guppies: The Great Guppy Games! now available on DVD. Preschoolers can dive into lots of fun and games with their favorite Guppies.
Bubble Guppies Mother's Day Cards
Read more about this fin-tastic DVD collection and also check out some special printable Bubble Guppies Mother's Day Cards below.
You know how much your little guppies love you, but it's still nice to be reminded! With the help of these printable Bubble Guppies Cards, your kids will love wishing you a fin-tastic Mother's Day! To print these extra special Mother's Day cards, click on the photo below and follow the printing directions.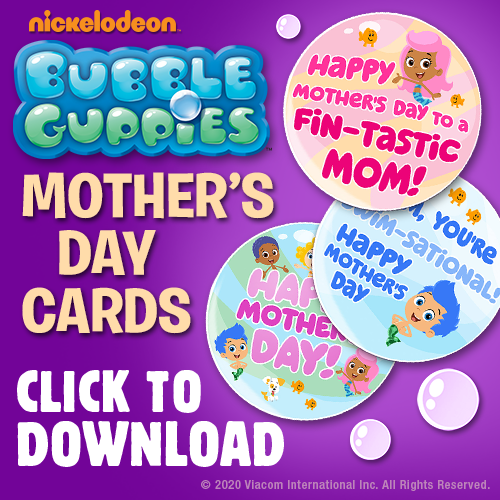 Bubble Guppies: The Great Guppy Games!:
Get ready to dive into five swim-sational episodes packed with fun-filled sports and games as the Bubble Guppies take part in the Summer Camp Games, the Super Ballet Bowl, the royally awesome Glitter Games, and more!
Bubble Guppies: The Great Guppy Games! episodes:
The Summer Camp Games!
The Super Ballet Bowl!
The Elephant Trunk-A-Dunk!
Puddleball!
The Glitter Games!
Bubble Guppies: The Great Guppy Games! will be available on DVD on May 12, 2020.
About Nickelodeon
Nickelodeon, now in its 40th year, is the number-one entertainment brand for kids. It has built a diverse, global business by putting kids first in everything it does.
The brand includes television programming and production in the United States and around the world, plus consumer products, digital, location-based experiences, publishing and feature films. For more information or artwork, visit http://www.nickpress.com.
Nickelodeon and all related titles, characters, and logos are trademarks of ViacomCBS Inc. (Nasdaq: VIACA, VIAC).
About Paramount Home Entertainment
Paramount Home Entertainment (PHE) is part of Paramount Pictures Corporation (PPC), a global producer and distributor of filmed entertainment. PPC is a unit of ViacomCBS (NASDAQ: VIAC; VIACA), a leading content company with prominent and respected film, television and digital entertainment brands.
The PHE division oversees PPC's home entertainment and transactional digital distribution activities worldwide. The division is responsible for the sales, marketing and distribution of home entertainment content on behalf of Paramount Pictures, Paramount Animation, Paramount Television, Paramount Players, MTV, Nickelodeon, Comedy Central, and CBS and applicable licensing and servicing of certain DreamWorks Animation titles.
PHE additionally manages global licensing of studio content and transactional distribution across worldwide digital distribution platforms including online, mobile and portable devices and emerging technologies.