Re-imagined for a new generation, Nickelodeon's all-new version of '90's kids' cult classic Are You Afraid of the Dark? is now available on DVD. Just in time for us to gear up for the upcoming Halloween Season.
Are You Afraid of the Dark? Unboxing Video
Nickelodeon sent a special package to my family in celebration of one of my favorite childhood shows. View the full Are You Afraid of the Dark? unboxing video below and don't forget to check out the awesome craft and recipe!
Are You Afraid of the Dark? – Now Available Everywhere!
Are you afraid of the dark S'mores Recipe
This s'mores recipe and campfire craft have been submitted for the approval of The Midnight Society. Storytelling around the campfire just got a lot more fun! Create this easy craft and recipe in your very own kitchen, then grab a flashlight and tell one of your best stories. If you would like to try the recipe and craft featured in the video, click on the button below.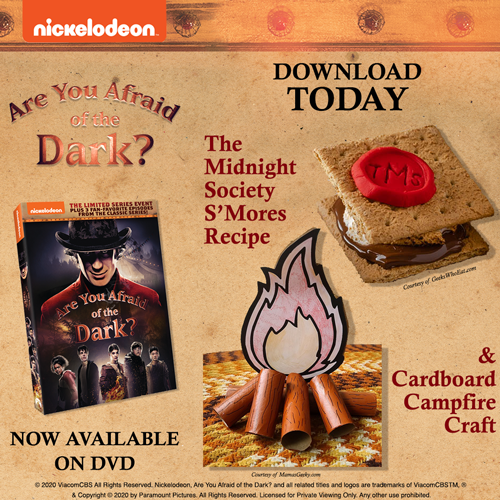 The three-part limited series follows members of an entirely new Midnight Society, who tell a terrifying tale of the Carnival of Doom and its evil ringmaster Mr. Top Hat, only to witness the shocking story come frightfully to life and prepare for an adventure beyond their wildest nightmares.
Are You Afraid Of The Dark DVD Now Available Everywhere!
A must-own for fans of the classic series, as well as those new to the franchise, the Are You Afraid of the Dark? DVD also includes three fan-favorite episodes from the original series and will be available Amazon and in a store near you.
The new members of the Midnight Society are Rachel, played by Lyliana Wray (Top Gun: Maverick, Black-ish); Gavin, played by Sam Ashe Arnold (Best.Worst.Weekend.Ever.).

Akiko, played by Miya Cech (Rim of the World, Always Be My Maybe); Graham, played by Jeremy Taylor (IT: Chapter Two, Goosebumps 2: Haunted Halloween); and Louise, played by Tamara Smart (Artemis Fowl, The Worst Witch). The Carnival of Doom's ringmaster, Mr. Tophat, is played by Rafael Casal (Blindspotting).
Are You Afraid of the Dark? Episodes:
Part One: Submitted For Approval
Part Two: Opening Night
Part Three: Destroy All Tophats
Special Features (US only):
Original Series Season 1, Episode 2: The Tale of Laughing in the Dark
Original Series Season 4, Episode 8: The Tale of the Ghastly Grinner
Original Series Season 5, Episode 1: The Tale of the Dead Man's Float