In honor of the new film Abominable, I have teamed up with Dreamworks to host this special Dreamworks Abominable Prize Pack Giveaway. Enter to win your very own Everest plush toy and Abominable Blu-ray.
About The Film Abominable
DreamWorks Animation and Pearl Studio's co-production Abominable takes audiences on an epic 2,000-mile adventure from the streets of a Chinese city to the breathtaking Himalayan snowscapes.
When teenage Yi (Chloe Bennet, Marvel's Agents of S.H.I.E.L.D.) encounters a young Yeti on the roof of her apartment building, she and her friends, Jin (Tenzing Norgay Trainor) and Peng (Albert Tsai), name him "Everest" and embark on an epic quest to reunite the magical creature with his family at the highest point on Earth.
But the trio of friends will have to stay one step ahead of Burnish (Eddie Izzard), a wealthy man intent on capturing a Yeti, and zoologist Dr. Zara (Sarah Paulson) to help Everest get home.
Read my Full 4DX Abominable Movie & Experience Review HERE.
ABOMINABLE is now available on Digital, 4K Ultra HD™, Blu-ray™ & DVD Today!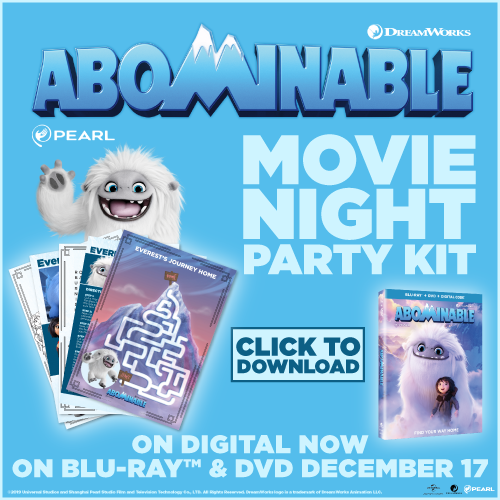 Dreamworks Abominable Prize Pack Giveaway
My family was blown away by the character's growth throughout the film and the musicality of this feature. I am so excited to be sharing this special Dreamworks Abominable Prize Pack Giveaway with all of you.
My daughter Esuun takes her pal Everest everywhere with her, even her sister's 11th Birthday Dinner last week. They have become such good friends just like Yi and Everest were in the film.
This film has become one of my family's favorite films of the year which I highly recommend you see ASAP. It's one of those films you can watch again and again and still feel those warm fuzzies each time.
Dreamworks Abominable Prize Pack Giveaway Prizes:
Abominable Plush Toy
Abominable Bluray
Enter To Win Below!